Today I will be sharing my 3 very favorite Young Adult contemporary novels. I will include an image of the book, the title and author, and the Goodreads summary for each of the books. Enjoy!
---
3.)
Eleanor and Park by Rainbow Rowell
Summary: Two misfits.
One extraordinary love.
Eleanor… Red hair, wrong clothes. Standing behind him until he turns his head. Lying beside him until he wakes up. Making everyone else seem drabber and flatter and never good enough…Eleanor.
Park… He knows she'll love a song before he plays it for her. He laughs at her jokes before she ever gets to the punch line. There's a place on his chest, just below his throat, that makes her want to keep promises…Park.
Set over the course of one school year, this is the story of two star-crossed sixteen-year-olds—smart enough to know that first love almost never lasts, but brave and desperate enough to try.
2.)
Sick Boy by Sean Waller
Summary: "Mom, I can't hear out of my right ear." It's the fall of 1983, and Tim Levine is poised for a breakout year. Entering 8th grade, he is entrenched in the popular crowd. Despite his diminutive size, he's just been invited to try out for the high school baseball team, something almost unheard of for an 8th grader. Two girls have just asked him to the school dance. Then, within a two-week span, Tim's life changes as he finds himself in the hospital diagnosed with cancer. With two tubes attached to his body like unwanted appendages and a newly bald head thanks to chemotherapy Tim struggles with the realization that his athletic future and his budding love life may be put on hold. He also has to deal with the fact that his friends are moving on through puberty, on to high school, while he lags behind. While in the hospital, Tim meets Tess, a leukemia patient with a contagiously positive attitude. This is a blessing for Tim as he struggles to make his unorthodox transition from middle school to high school, as well as his transition from being the popular kid to the sick kid.
1.)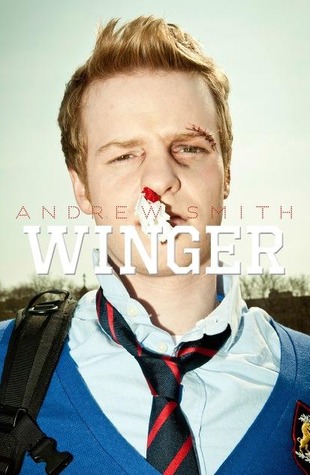 Winger by Andrew Smith
Summary: Ryan Dean West is a fourteen-year-old junior at a boarding school for rich kids in the Pacific Northwest. He's living in Opportunity Hall, the dorm for troublemakers, and rooming with the biggest bully on the rugby team. And he's madly in love with his best friend Annie, who thinks of him as a little boy.
With the help of his sense of humor, rugby buddies, and his penchant for doodling comics, Ryan Dean manages to survive life's complications and even find some happiness along the way. But when the unthinkable happens, he has to figure out how to hold on to what's important, even when it feels like everything has fallen apart.
Filled with hand-drawn info-graphics and illustrations and told in a pitch-perfect voice, this realistic depiction of a teen's experience strikes an exceptional balance of hilarious and heartbreaking.
---
-Sean, kingdombookblog