Mashup Review:
-The Dark Secret by Tui T. Sutherland
-The Brightest Night by Tui T. Sutherland
---
SECTION 1-OVERALL THOUGHTS:
These two were definitely the better of the two batches and I just absolutely loved them. I'm honestly speechless because of this amazing series.
---
THE DARK SECRET
The whole time while reading this I didn't really think about how much I was enjoying it, but it was at the end when I began to realize how invested I was in the plot. I just couldn't get over the twists and turns throughout the book.
RATING: 5/5
---
THE BRIGHTEST NIGHT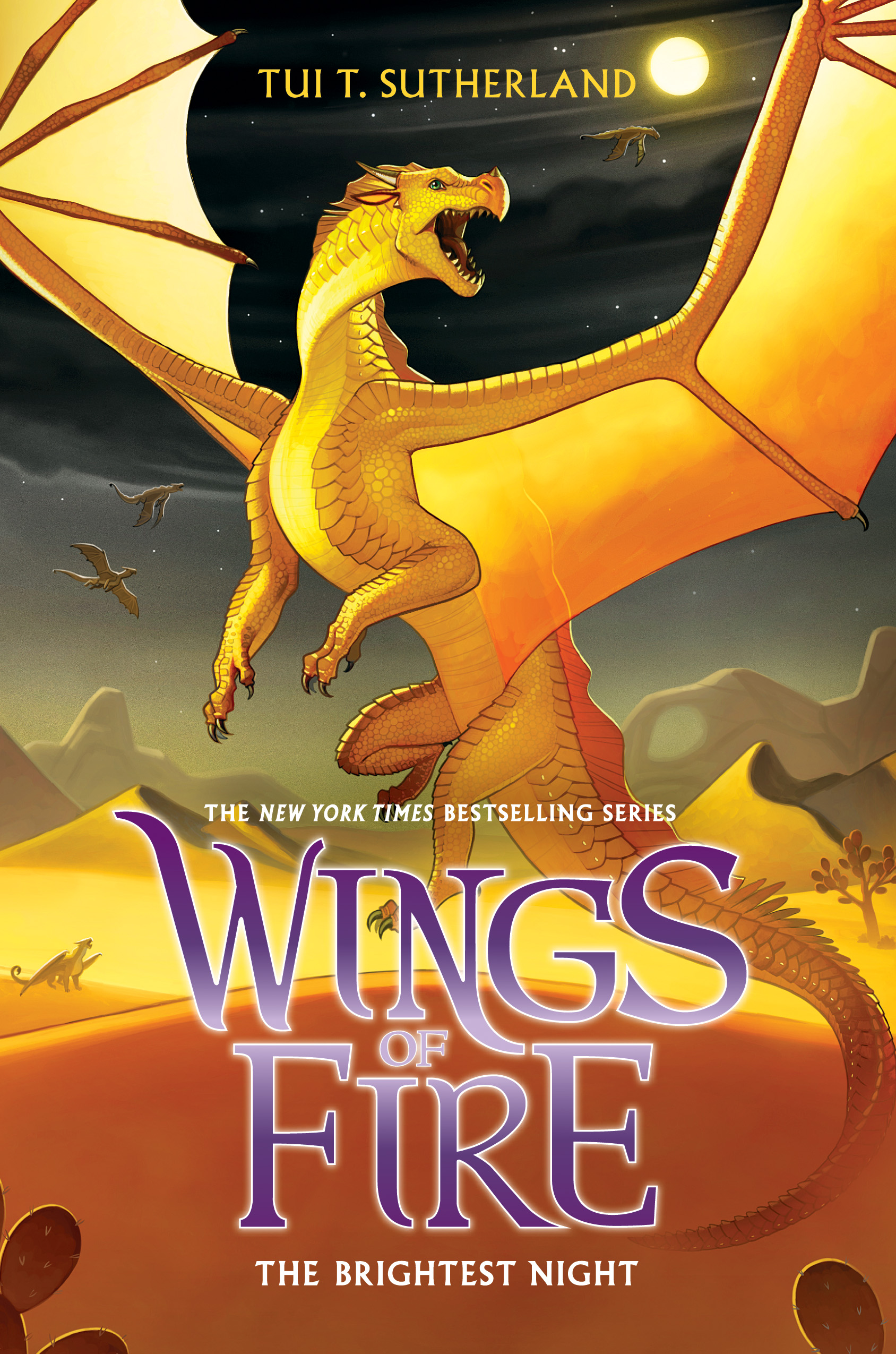 I was stunned by this finale to the first part of the series, and I definitely suffered a serious book hangover after reading this. I can't wait to continue onto the second part of the series!
RATING: 5/5
---
SECTION 2-MAIN CHARACTERS: 
NARRATORS:
Starflight: Starflight narrates The Dark Secret, and he definitely earned my respect through his narration, and the whole time I was hoping for the best for him.
Sunny: Sunny narrates The Brightest Night, and she is by far a favorite of mine. She has such a positive outlook, and she really shined in this conclusion.
---
OTHER MAIN CHARACTERS:
Clay: Once again, I found myself missing the fire and excitement that Clay had in the first two books. He definitely was overall an amazing and caring character, but something was missing.
Tsunami: I've always had some problems with Tsunami, but I enjoyed her character in these two books. I definitely thought that she didn't have the spotlight on her like she did in the first three books, so that could've been the reason why I liked her better, but either way she was enjoyable.
Glory: Glory rapidly became a new favorite character of mine, which is saying a lot considering she annoyed me SO much in the second book. I loved how strong she was and how fierce she was in protecting her tribe.
---
SECTION 3-SIDE CHARACTERS:
Fatespeaker: Fatespeaker was a favorite of mine as well, and I really want what's best for her. I will be devastated if something bad happens to her.
Deathbringer: Deathbringer definitely wasn't my favorite, and he kind of annoyed me in the way he was acting around Glory. He was supposed to be comical, but I didn't see it at all.
Peril: Definitely the most controversial character in this series, Peril definitely had her ups and downs in the final book, which was the one she was featured in. Overall, I was happy to see her again, and I have a feeling that we haven't seen the last of her.
Thorn: By far, Thorn was the ideal parent for Sunny, and I was so happy to see their strong connection in the first few times they had met each other.
---
SECTION 4-WRITING:
Once again, the writing wasn't fantastic or anything, but the author did her job by keeping the story flowing and easy to follow. The writing definitely did enough to make me want to read more from this author
---
SECTION 5-THE PROPHECY:
I was blown away when Morrowseer revealed that the prophecy was fake! Possibly, the greatest plot twist I've ever read. I mean this whole war and series was founded on the prophecy, and it turns out to be fake. UNBELIEVABLE! I really liked the showdown between Burn, Blister, and Blaze at the end, and I'm happy that Sunny ended up taking the power from Blister and passing it on to her mother Thorn, who became the new Sandwing queen.
---
SECTION 6-FAVORITE AND LEAST FAVORITE:
FAVORITE: The Brightest Night
Reasoning: I just thought this was the better of the two. It was more exciting and fast-paced, and I enjoyed Sunny's perspective more.
LEAST FAVORITE: The Dark Secret
Reasoning: This was my second favorite from the whole series, but I just didn't enjoy it as much as the thrilling conclusion.
---
THANK YOU SO MUCH FOR WATCHING! GO CHECK OUT MY MASHUP REVIEW FOR BOOKS 1-3 IF YOU HAVEN'T ALREADY:)
-Sean, kingdombookblog